Intermediate decorative varnish is a kind of decorative coating that is applied to a mural in order to enrich its colors and give it a definite final effect. Ornante products can be enriched with varnishes such as silver (Frost), gold (Dor), copper (Cuprum) and pearl (Perola).
This type of decorative coating is possible to use in the form of a background for the right image before applying paints with a graphic motif or as a final varnish - after applying the paint (Perola). The choice of individual options depends on the willingness to achieve a certain degree of varnish saturation. In the intermediate version, it is more subdued and the colors of the image appear in the foreground, and in the final version the colors are largely dominated by the metallic effect of silver, gold, copper or penetration of the pearl. In the case of the need to obtain a softer impression, eg only a delicate glow of a given varnish, it is possible to gradate its saturation. There are available light variants (about 45-65% saturation) and heavy (about 75-100% saturation). It should be taken into account that the percentage proportions indicated above, due to the manual nature of production, are only indicative.
FROST
Frost is a silver decorative coating applied to a fresco in the form of an intermediate or final varnish. A cool silver glow in the light variant or on the contrary an intense attractive silver glow in the heavy variant will perfectly match images or graphics in warm colors - for example in the company of colors such as coral, lemon, ocher, maroon, milk chocolate, beige or "warm" gray. An excellent solution will also be a combination of silver with pistachio or bottled green, violet, turquoise or graphite.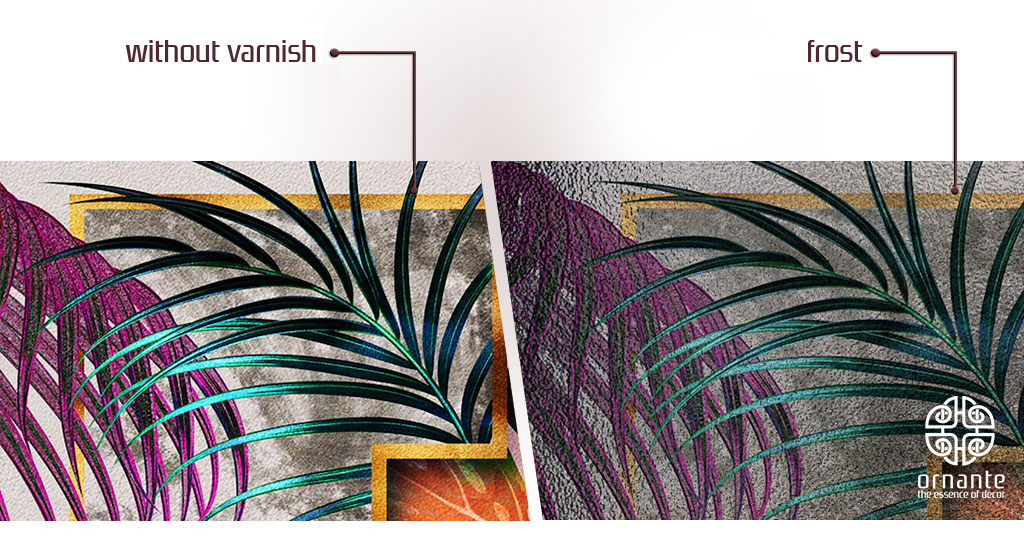 DOR
Dor is a gold decorative coating characterized by a metallic effect. It can be used in the form of a primer and final layer, so as a background for the colors of the selected image or as the effect of dominant metallic gold. Available variants of varnish saturation (light and heavy) allow to obtain on the fresco a delicate golden glow or noble, strongly decorative - intensely gold material. It will blend perfectly with colors and materials close to nature, so beige, brown or cream. Gold in the main role is perfectly suited complemented by contrasting colors such as grenades or blacks.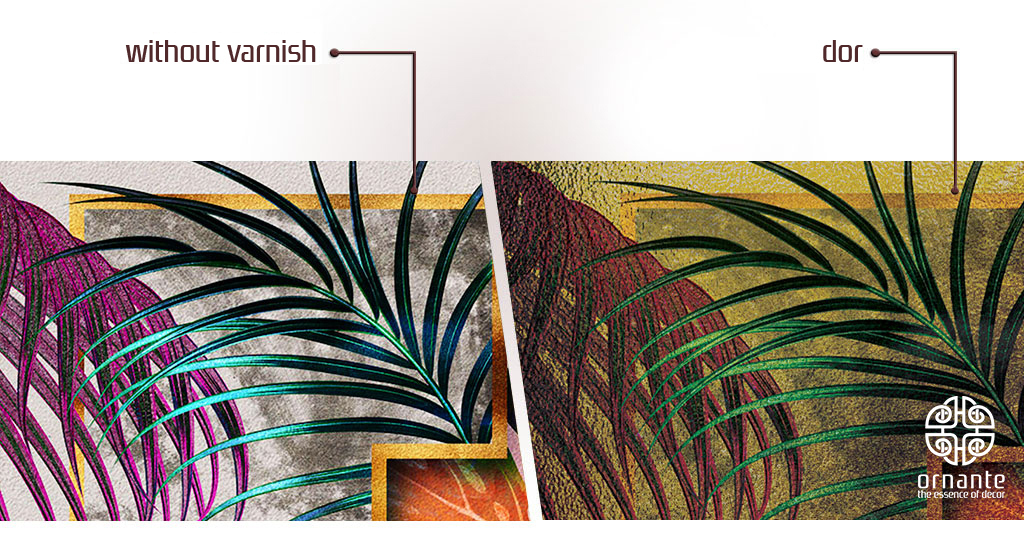 CUPRUM
Cuprum is the refinement of the mural giving it a characteristic copper finish. Saturation variations (light and heavy) will allow you to achieve a final effect depending on the vision - only reddish gold reflections enriching the colors of the fresco or copper total look. Copper, a warm and shimmering metal, gives the interior a unique character. It works perfectly in the vicinity of wood in combination with white or black (not simultaneously). Copper is also suitable as a companion of pastel colors. Copper total look in a bold version will be complemented with the help of colors falling into black - chocolate, dark emerald, dark purple or navy blue.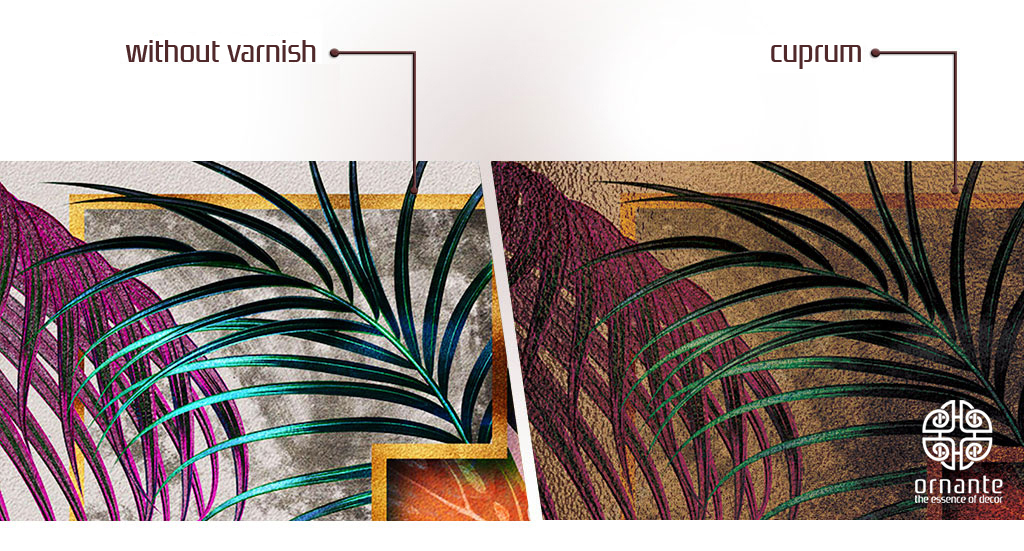 PEROLA
Perola is one of the most delicate varnishes, because of its semi-transparent consistency, it gives a very subtle effect every time. This solution is for all those who like subdued colors and a slightly "powdered" finish with the characteristic glow of a pearl. Perola decorative varnish makes a completely different impression depending on the choice of its application layer. As a base layer it is basically a background with a delicate pearl glow, as the final layer permeates the original colors of the fresco and gives them a dark, slightly matt shade. According to our experts, it will perfectly work in women's interiors surrounded by pastel tones, as well as on the walls of children's rooms